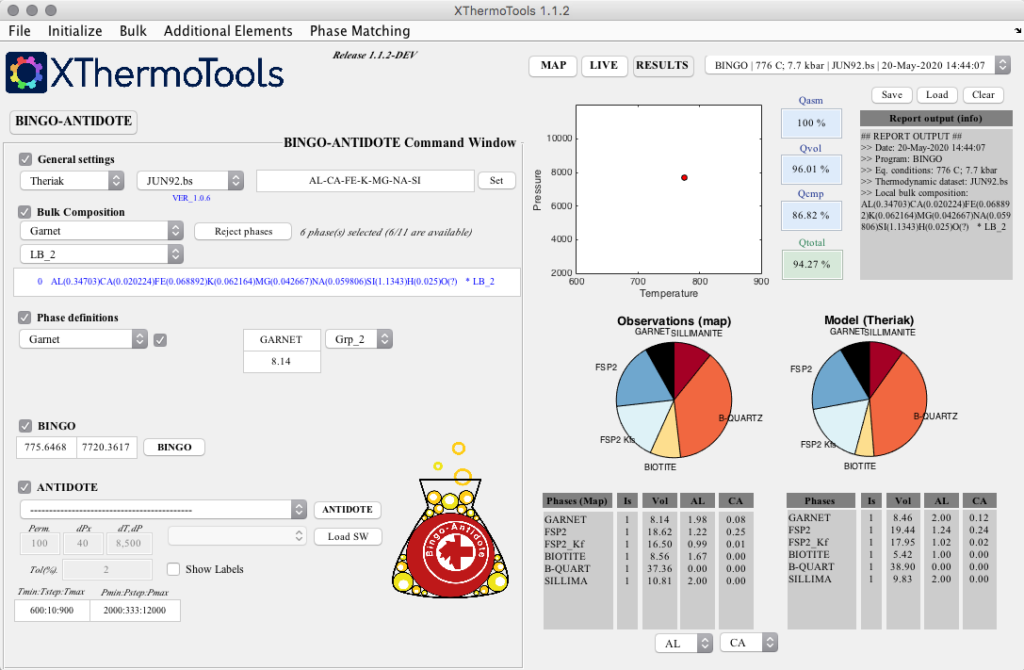 XThermoTools is an official XMapTools extension for thermodynamic calculations based on compositional maps. It includes the most up-to-date version of Bingo-Antidote (Lanari & Duesterhoeft 2019; Duesterhoeft & Lanari 2020).
How to add XThermoTools to XMapTools?
XThermoTools can be downloaded using the Extension manager available in XMapTools:
Open MATLAB©, set the working directory and open XMapTools
In menu, select File > Add-Ons > Manage Extensions
Find XThermoTools in the Extension manager
Press the button Download (or Delete & Download to update the add-on)
The add-on is downloaded and installed automatically
How to establish the link with Theriak-Domino?
The Gibbs energy minimiser Theriak-Domino is required to use Bingo-Antidote in the add-on XThermoTools.
Compatibility information
Bingo-Antidote is compatible with the last public version of Theriak-Domino. However, we strongly recommend to use one of the pre-compiled versions of Theriak-Domino (mandatory for Windows' users) as well as the database files which are provided in the package (see below).
Bingo-Antidote is not compatible with older versions of Theriak-Domino including the versions distributed by Doug Tinkham.
Note to Windows' users. The versions of Theriak-Domino compiled with MinGW have some issues (see the discussion here) preventing these versions to be compatible with Bingo-Antidote.
Connecting Theriak-Domino and Bingo-Antidote
The add-on setup is checked and if necessary installation is performed while opening XThermoTools. The location of Theriak-Domino can be set during the installation process.

Procedure (valid for the first time XThermoTools is opened):
Open MATLAB©, set the working directory and open XMapTools
Open a project containing the appropriate mapping data (see below)
Switch to the workspace Quanti, select XThermoTools in the add-on menu and press Apply
Select the relevant Theriak-Domino directory in XThermoTools/XTT_Programs/…
Three compiled versions are available:
TheriakDominoMAC: This MAC version was compiled using gfortran (see the install procedure here to install gfortran). You need to have Xcode and gfortran installed on your machine
TheriakDominoMAC_Intel: This MAC version was compiled using an Intel compiler and is supposed to work on all MAC computers
TheriakDominoWIN: This version was compiled using Cygwin and is recommended for Window's users. WARNING: the dll files provided here should be copied to C:\Windows\ before to use the add-on
How to get started?
Follow tutorial 3 in the user guide for a guided step-by-step first experience of Bingo-Antidote in XThermoTools.
Mapping data required
XThermoTools requires the following data:
Compositional maps

containing pixel compositions expressed in weight-percentage of oxides. This dataset can be generated using the Merge functionality available in the workspace Quanti. Quantitative maps with different formats can be converted using the standardisation option Transfer to Quanti
The corresponding

mask file

selected in the menu Mask File located in the left panel
A

density map

generated for the selected mask file in Quanti
Running XThermoTools from XMapTools
Open XMapTools and load a project containing the required data (see above)
Navigate to the workspace QUANTI
Select XThermoTools in the add-on menu of XMapTools and press OPEN
You can start using Bingo-Antidote
Open the user guide in the menu, select File >> Help & Documentation
References & citation guidelines
The following publications provide a description of Bingo-Antidote and some application examples:
Bingo-Antidote algorithm

: Duesterhoeft, E., & Lanari, P. (2020). Iterative thermodynamic modelling – Part 1: A theoretical scoring technique and a computer program (BINGO-ANTIDOTE). Journal of Metamorphic Geology DOI:10.1111/jmg.12538

Bingo-Antidote philosophie and first application example

: Lanari, P. & Duesterhoeft, E. (2019). Modelling metamorphic rocks using equilibrium thermodynamics and internally consistent databases: past achievements, problems and perspectives. Journal of Petrology, 60, 19-56

Local bulk compositions

: Lanari, P., & Engi, M. (2017). Local bulk composition effects on metamorphic mineral assemblages, Reviews in Mineralogy and Geochemistry, 83, 55-102
Example: Simulations were performed using an iterative thermodynamic modelling strategy (Lanari & Duesterhoeft 2019) using the software package Bingo-Antidote integrated in XThermoTools 1.1.1 (Duesterhoeft & Lanari 2020), an extension of XMapTools (Lanari et al. 2014; 2019).